Achievements
𝑺𝒕.𝑹𝒐𝒔𝒊𝒆𝒓 𝑷𝒖𝒃𝒍𝒊𝒄 𝑺𝒄𝒉𝒐𝒐𝒍, 𝑺𝒉𝒂𝒍𝒊𝒎𝒂𝒓 𝑩𝒂𝒈𝒉, 𝑫𝒆𝒍𝒉𝒊 𝒉𝒂𝒔 𝒂𝒍𝒘𝒂𝒚𝒔 𝒃𝒆𝒆𝒏 𝒐𝒓𝒈𝒂𝒏𝒊𝒔𝒊𝒏𝒈 𝒗𝒂𝒓𝒊𝒐𝒖𝒔 𝒂𝒄𝒕𝒊𝒗𝒊𝒕𝒊𝒆𝒔 𝒇𝒐𝒓 𝒂𝒍𝒍 𝒓𝒐𝒖𝒏𝒅 𝒅𝒆𝒗𝒆𝒍𝒐𝒑𝒎𝒆𝒏𝒕 𝒐𝒇 𝒔𝒕𝒖𝒅𝒆𝒏𝒕𝒔.𝑵𝒐𝒘 𝒐𝒏𝒆 𝒎𝒐𝒓𝒆 𝒔𝒕𝒂𝒓 𝒊𝒔 𝒂𝒅𝒅𝒆𝒅 𝒕𝒐 𝒕𝒉𝒆 𝒃𝒆𝒂𝒖𝒕𝒊𝒇𝒖𝒍 𝒑𝒊𝒄𝒕𝒖𝒓𝒆 𝒐𝒇 𝑺𝒕. 𝑹𝒐𝒔𝒊𝒆𝒓 𝑷𝒖𝒃𝒍𝒊𝒄 𝑺𝒄𝒉𝒐𝒐𝒍.𝑹𝒆𝒄𝒆𝒏𝒕𝒍𝒚 𝒂 𝒒𝒖𝒊𝒛 𝒄𝒐𝒎𝒑𝒆𝒕𝒊𝒕𝒊𝒐𝒏 𝒘𝒂𝒔 𝒐𝒓𝒈𝒂𝒏𝒊𝒔𝒆𝒅 𝒃𝒚 𝑫𝑰𝑺𝑪𝑶𝑽𝑬𝑹𝒀 𝑺𝑪𝑯𝑶𝑶𝑳 𝑺𝑼𝑷𝑬𝑹. 𝑳𝑬𝑨𝑮𝑼𝑬 𝒊𝒏 𝒘𝒉𝒊𝒄𝒉 𝒕𝒉𝒓𝒆𝒆 𝒔𝒕𝒖𝒅𝒆𝒏𝒕𝒔 𝒇𝒓𝒐𝒎 𝒐𝒖𝒓 𝒔𝒄𝒉𝒐𝒐𝒍 𝒇𝒂𝒓𝒆𝒅 𝒓𝒆𝒎𝒂𝒓𝒌𝒂𝒃𝒍𝒚 𝒘𝒆𝒍𝒍 𝒂𝒏𝒅 𝒏𝒐𝒘 𝒕𝒉𝒆𝒔𝒆 𝒔𝒕𝒖𝒅𝒆𝒏𝒕𝒔 𝒘𝒊𝒍𝒍 𝒃𝒆 𝒑𝒂𝒓𝒕𝒊𝒄𝒊𝒑𝒂𝒕𝒊𝒏𝒈 𝒊𝒏 𝒕𝒉𝒆 𝒖𝒑𝒑𝒆𝒓 𝒍𝒆𝒗𝒆𝒍𝒔 𝒐𝒇 𝒕𝒉𝒆 𝒔𝒂𝒎𝒆 𝒒𝒖𝒊𝒛 𝒊𝒏 𝒕𝒉𝒆 𝒄𝒐𝒎𝒊𝒏𝒈 𝒅𝒂𝒚𝒔 .𝑶𝒖𝒓 𝒓𝒆𝒔𝒑𝒆𝒄𝒕𝒆𝒅 𝒑𝒓𝒊𝒏𝒄𝒊𝒑𝒂𝒍 𝑴𝒓𝒔. 𝑯𝒂𝒓𝒗𝒆𝒆𝒏 𝑺𝒉𝒂𝒓𝒎𝒂 𝒂𝒏𝒅 𝒕𝒉𝒆 𝒎𝒂𝒏𝒂𝒈𝒆𝒓 𝒐𝒇 𝒕𝒉𝒆 𝒔𝒄𝒉𝒐𝒐𝒍 𝑫𝑹 𝑰.𝑪.𝑮𝑼𝑷𝑻𝑨 𝒂𝒑𝒑𝒓𝒆𝒄𝒊𝒂𝒕𝒆𝒅 𝒕𝒉𝒆 𝒔𝒕𝒖𝒅𝒆𝒏𝒕𝒔 𝒂𝒏𝒅 𝒘𝒊𝒔𝒉𝒆𝒅 𝒕𝒉𝒆𝒎 𝒈𝒐𝒐𝒅 𝒍𝒖𝒄𝒌 𝒇𝒐𝒓 𝒏𝒆𝒙𝒕 𝒍𝒆𝒗𝒆𝒍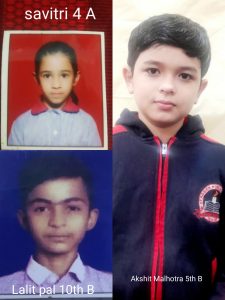 One more feather is added to the cap of St. Rosier Public School Family, Shalimar Bagh, Delhi-88. Gourav Goel from class XII (2019-20) has been awarded a merit certificate for his remarkable performance from the CBSE. He received the merit certificate direct from the CBSE BOARD. He scored 99% in Accountancy. On 14.08.21 Gourav was awarded by school management. A special ceremony was held in school where Director of school Mr. Ashwani Sharma, Principal Mrs. Harveen Sharma and Manager Dr. I.C Gupta awarded the brilliant student with merit certificate from CBSE, Letter of appreciation from school, a memento symbolizing his great achievement and a cash reward. Dr. I.C. Gupta and Mrs. Harveen Sharma appreciated Gaurav Goel and wished him best for his future. It was a memorable moment for St. Rosier Public School.
---
𝑂𝑛𝑒 𝑚𝑜𝑟𝑒 𝑓𝑒𝑎𝑡ℎ𝑒𝑟 𝑖𝑠 𝑎𝑑𝑑𝑒𝑑 𝑡𝑜 𝑡ℎ𝑒 𝑐𝑎𝑝 𝑜𝑓 𝑆𝑡. 𝑅𝑜𝑠𝑖𝑒𝑟 𝑃𝑢𝑏𝑙𝑖𝑐 𝑆𝑐ℎ𝑜𝑜𝑙 𝐹𝑎𝑚𝑖𝑙𝑦, 𝑆ℎ𝑎𝑙𝑖𝑚𝑎𝑟 𝐵𝑎𝑔ℎ, 𝐷𝑒𝑙ℎ𝑖-𝟴𝟴.Virat Gupta 𝑓𝑟𝑜𝑚 𝑐𝑙𝑎𝑠𝑠 𝑋 (𝟮𝟬𝟭𝟵-𝟮𝟬) ℎ𝑎𝑠 𝑏𝑒𝑒𝑛 𝑎𝑤𝑎𝑟𝑑𝑒𝑑 𝑎 𝑚𝑒𝑟𝑖𝑡 𝑐𝑒𝑟𝑡𝑖𝑓𝑖𝑐𝑎𝑡𝑒 𝑓𝑜𝑟 ℎ𝑖𝑠 𝑟𝑒𝑚𝑎𝑟𝑘𝑎𝑏𝑙𝑒 𝑝𝑒𝑟𝑓𝑜𝑟𝑚𝑎𝑛𝑐𝑒 𝑓𝑟𝑜𝑚 𝑡ℎ𝑒 𝐶𝐵𝑆𝐸. 𝐻𝑒 𝑟𝑒𝑐𝑒𝑖𝑣𝑒𝑑 𝑡ℎ𝑒 𝑚𝑒𝑟𝑖𝑡 𝑐𝑒𝑟𝑡𝑖𝑓𝑖𝑐𝑎𝑡𝑒 𝑑𝑖𝑟𝑒𝑐𝑡 𝑓𝑟𝑜𝑚 𝑡ℎ𝑒 𝐶𝐵𝑆𝐸 𝐵𝑂𝐴𝑅𝐷. 𝐻𝑒 𝑠𝑐𝑜𝑟𝑒𝑑
percent 𝑖𝑛 Mathematics. 𝑂𝑛 28.𝟬𝟴.𝟮𝟭 Virat Gupta 𝑤𝑎𝑠 𝑎𝑤𝑎𝑟𝑑𝑒𝑑 𝑏𝑦 𝑠𝑐ℎ𝑜𝑜𝑙. 𝐴 𝑠𝑝𝑒𝑐𝑖𝑎𝑙 𝑐𝑒𝑟𝑒𝑚𝑜𝑛𝑦 𝑤𝑎𝑠 ℎ𝑒𝑙𝑑 𝑖𝑛 𝑠𝑐ℎ𝑜𝑜𝑙 𝑤ℎ𝑒𝑟𝑒 𝐷𝑖𝑟𝑒𝑐𝑡𝑜𝑟 𝑜𝑓 𝑠𝑐ℎ𝑜𝑜𝑙 𝑀𝑟. 𝐴𝑠ℎ𝑤𝑎𝑛𝑖 𝑆ℎ𝑎𝑟𝑚𝑎, 𝑃𝑟𝑖𝑛𝑐𝑖𝑝𝑎𝑙 𝑀𝑟𝑠. 𝐻𝑎𝑟𝑣𝑒𝑒𝑛 𝑆ℎ𝑎𝑟𝑚𝑎 𝑎𝑛𝑑 𝑀𝑎𝑛𝑎𝑔𝑒𝑟 𝐷𝑟. 𝐼.𝐶 𝐺𝑢𝑝𝑡𝑎 𝑎𝑤𝑎𝑟𝑑𝑒𝑑 𝑡ℎ𝑒 𝑏𝑟𝑖𝑙𝑙𝑖𝑎𝑛𝑡 𝑠𝑡𝑢𝑑𝑒𝑛𝑡 𝑤𝑖𝑡ℎ 𝑚𝑒𝑟𝑖𝑡 𝑐𝑒𝑟𝑡𝑖𝑓𝑖𝑐𝑎𝑡𝑒 𝑓𝑟𝑜𝑚 𝐶𝐵𝑆𝐸, 𝐿𝑒𝑡𝑡𝑒𝑟 𝑜𝑓 𝑎𝑝𝑝𝑟𝑒𝑐𝑖𝑎𝑡𝑖𝑜𝑛 𝑓𝑟𝑜𝑚 𝑠𝑐ℎ𝑜𝑜𝑙, 𝑎 𝑚𝑜𝑚𝑒𝑛𝑡𝑜 𝑠𝑦𝑚𝑏𝑜𝑙𝑖𝑠𝑖𝑛𝑔 ℎ𝑖𝑠 𝑔𝑟𝑒𝑎𝑡 𝑎𝑐ℎ𝑖𝑒𝑣𝑒𝑚𝑒𝑛𝑡 𝑎𝑛𝑑 𝑎 𝑐𝑎𝑠ℎ 𝑟𝑒𝑤𝑎𝑟𝑑. 𝐷𝑟. 𝐼.𝐶. 𝐺𝑢𝑝𝑡𝑎 𝑎𝑛𝑑 𝑀𝑟𝑠. 𝐻𝑎𝑟𝑣𝑒𝑒𝑛 𝑆ℎ𝑎𝑟𝑚𝑎 𝑎𝑝𝑝𝑟𝑒𝑐𝑖𝑎𝑡𝑒𝑑 𝐺𝑎𝑢𝑟𝑎𝑣 𝐺𝑜𝑒𝑙 𝑎𝑛𝑑 𝑤𝑖𝑠ℎ𝑒𝑑 ℎ𝑖𝑚 𝑏𝑒𝑠𝑡 𝑓𝑜𝑟 ℎ𝑖𝑠 𝑓𝑢𝑡𝑢𝑟𝑒. 𝐼𝑡 𝑤𝑎𝑠 𝑎 𝑚𝑒𝑚𝑜𝑟𝑎𝑏𝑙𝑒 𝑚𝑜𝑚𝑒𝑛𝑡 𝑓𝑜𝑟 𝑆𝑡. 𝑅𝑜𝑠𝑖𝑒𝑟 𝑃𝑢𝑏𝑙𝑖𝑐 𝑆𝑐ℎ𝑜𝑜𝑙.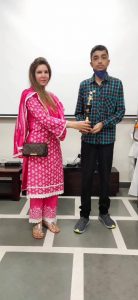 Congratulations!
Sajan Soni (Class 12th) and Harshita (Class 12th) have added more feathers to the glorious cap of Fame of Saint Rosier Public school by winning remarkable position in the All India Essay Writing Event organised by Shri Ram Chandra mission United Nation Information Centre and the Heartfulness Education Trust. This event was titled – 'Heartfulness Essay Event'.
The principal of the school Mrs. Harveen Kaur Sharma, has also been awarded with "A Certificate of Appreciation" for her valuable guidance to students.