CBSE Results
CBSE RESULT 2019-20
Our young achievers for the session 2019-20
The sun will rise anyways, the moon and stars will shine bright and beautiful things will happen, come what may. In spite of all the chaos and confusion that Coronavirus has brought in, and our lives going through great turmoil, our young achievers from SRPS have proved that where there is a will, there is a way. Our brilliant students have done us proud by displaying their excellence in the CBSE board examinations for the session 2019-20 by faring to the best of their ability and to the expectations of the school.
➢ Pass percentage – 100%
➢ 90% and above in different subjects – 20/74
We congratulate all our young achievers for faring so well and making SRPS reach new heights of achievement. We also congratulate our worthy teachers for putting in extra efforts and making us proud. We wish all our students a very bright future ahead.
SCHOOL TOPPERS:
Class XII
| | | |
| --- | --- | --- |
| STUDENT'S NAME | STREAM | RESULT |
| GOURAV GOEL | COMMERCE | 98.2 % |
| SHAGUN GUPTA | COMMERCE | 97 % |
| JAYANT | COMMERCE | 92% |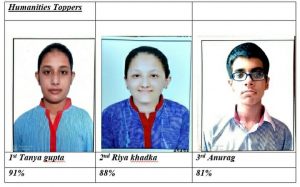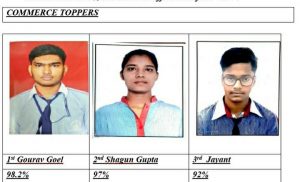 Class X
STUDENT'S NAME
RESULT
VIRAT GUPTA

SCORED 100 MARKS IN MATHS

91 %
MAUSAM
90 %
PRINCE
87 %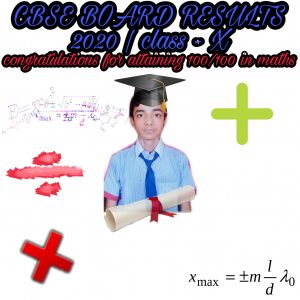 CBSE RESULT OF SESSION 2018-19
SRPS proudly announces the CBSE results of Classes X & XII for the Session 2018-19.The School congratulates all the students for a very bright future ahead. School Management also appreciates the efforts of all the teachers in helping the students achieve what they have achieved so far.
SCHOOL TOPPERS:
Class XII
| | | |
| --- | --- | --- |
| STUDENT'S NAME | STREAM | RESULT |
| TANISHKA | COMMERCE | 88.4 % |
| HIMANSHI | COMMERCE | 83.8% |
| PALAK | HUMANITIES | 82.2% |
Class X
| | |
| --- | --- |
| STUDENT'S NAME | RESULT |
| PRIYANSHU KUMAR &SHUBHAM MISHRA | 95.6 % |
| RITIK | 95.2% |
| RAJAT | 94.4% |
S.NO.
SUBJECT
STUDENT'S

 NAME

MARKS OBTAINED
NO OF DISTINCTIONS

1

ENGLISH

SHUBHAM

PRIYANSHU

PRATIBHA

95

95

95

    

37

2

HINDI

PRIYANSHU

RAJAT

 95

95

 

38

 3
MATHS
SHUBHAM

RAJAT

AYUSH

99

96

96

 

20

4

SCIENCE

SHUBHAM

PRIYANSHU

RITIK

RAJAT

PRATIBHA

97

95

95

95

95

16

5
SOCIAL STUDIES
PRIYANSHU

SHUBHAM

RITIK

98

95

95

 

31

6

SANSKRIT

RITIK

NIKKIT

100

98

29